Kamco™ Hyper-Flush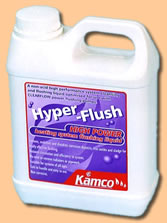 Dissolves, loosens and mobilises corrosion deposits, iron oxides & sludge
Restores circulation to cold radiators
No need to remove radiators
Cleans during normal operation
Hyper-Flush is the non-acid flushing liquid with extra solvency power to take debris into suspension for easy removal by power flushing. It penetrates, loosens and dissolves rust, sludge, corrosion and light scale deposits during normal operation of the system, without formation of particulate matter to cause blockages and damage pumps. Hyper-Flush is non-corrosive and works at a near neutral pH, enabling it to be used on older systems showing signs of severe neglect, or which may be in too poor a condition for use of Power Flush FX2 liquid.
Hyper-Flush should also be used on systems which have aluminum radiators, or boilers with aluminum heat exchangers. It may be used with all metals commonly used in heating systems and does not cause deterioration of non-metallic components.
Hyper-Flush can even loosen complete blockages and is, therefore, also an excellent pre-treatment for systems with radiators having no flow as a result of heavy sludge build up. There is no "gassing" during cleaning, and no need to bleed radiators during the process. Self neutralising and passivating properties remove the need for further flushing procedures after use, and metal surfaces are left clean and corrosion free.